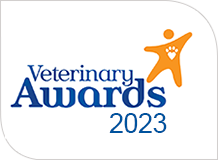 Petplan Veterinary Awards 2023
Following the nationwide search to find the UK's top veterinary professionals, we are delighted to announce the winners and finalists of the prestigious 2023 Veterinary Awards.
This year we received over 30,000 nominations from clients and veterinary staff highlighting the fantastic work that goes on in practice and on the road on a daily basis to keep pets healthy and owners happy.
Watch the videos below to find out more about the 2023 winners and finalists.
The 2023 awards highlights video is now available here.
The 2023 guest photographs have been released.